On October 25, the opening ceremony of Yongen Science and Technology Station of South China Agricultural University was held at the University of Tolima in Colombia, and it is the first time that the Station established overseas, promoting the basic rice research and production technology overseas, especially the substantive cooperation between SCAU and their Colombia peers to a new level.
Yonggen Science and Technology Station is named after Lu Yonggen, an academician of the Chinese Academy of Sciences, an outstanding member of the Communist Party of China, a model of the times, and the former president of SCAU. It was established to provide all-round support in science and technology, culture, and talents for the comprehensive development of local governments and enterprises. SCAU allocates special scientific research funds to encourage scientific researchers to work with local farmers or employees of agricultural-related enterprises to discover and solve problems in the production process, and cultivate a group of professionals.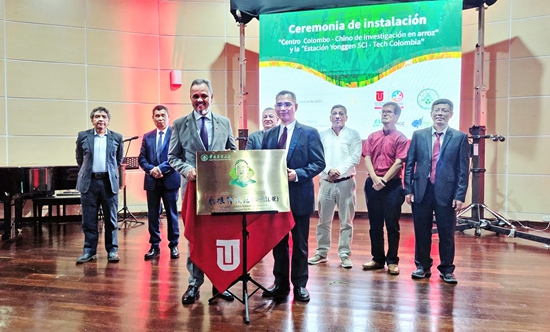 In July 2022, under the witness of Ambassador Lan Hu of the Chinese Embassy in Colombia, SCAU, University of Tolima, Colombia, the National Rice Growers Federation of Colombia, and the local government signed a contract to build the China-Colombia Rice Research Center which is a vital international cooperation platform.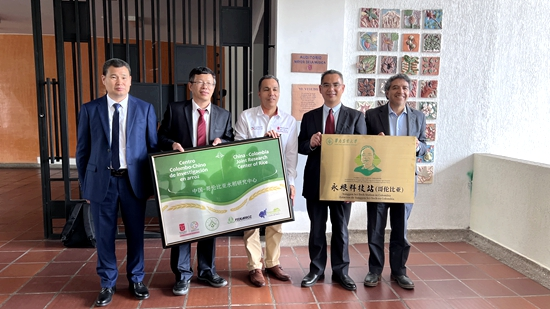 In recent years, SCAU, under the framework of CLAERIA, has been full playing its advantages and continue to expand its international network through a variety of innovative overseas demonstration projects such as Chinese and Agricultural Science and Technology Development Center, and Overseas Yonggen Science and Technology Station which are considered as SCAU Plans to some common global challenges.
Leaders and experts from Office of International Relations, College of Resources and Environment, and College of Agriculture from SCAU, President Omar Mejía Patiño of the University of Tolima in Colombia, Vice Presidents John Mendez Arteaga, Martha Núñez, Diego Polo and more than 200 people witnessed the ceremony.