Recently, with the support of the Center for Language Education and Cooperation,Ministry of Education in China (hereinafter referred to as CLEC), the Chinese language courses of the Chinese Language and Agricultural Science and Technology Development Center by SCAU and the Federal University of Mato Grosso in Brazil(hereinafter referred to as the UFMT) officially started in Cuiaba, Mato Grosso State. This is the first time that the state has offered Chinese courses, with a total of 100 students enrolled and 4 teaching classes.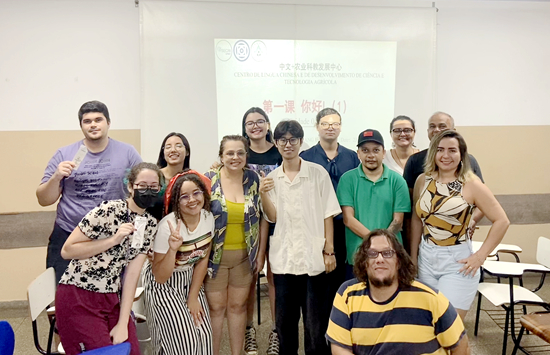 At the opening ceremony, the director of the international department of UFMT said that the center is an international innovation cooperation platform that integrates language and scientific and technological exchanges. Chinese learning is a catalyst for promoting cultural exchanges between Brazilian teachers and students and their Chinese counterparts. The cooperation between the two universities will help promote local agricultural and cultural development.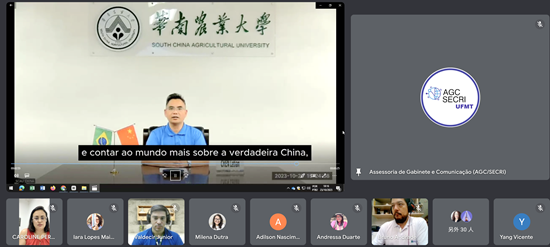 Chinese characters and Chinese language carry the rich humanistic spirit and values of the Chinese people, the head of the Office of International Relations in SCAU said at the opening ceremony online. He hoped that the students, as Chinese learners, could use language as a bridge to promote exchanges and cooperation in humanities and agricultural research between China and Brazil, and become ambassadors of friendly exchanges between the two countries.
With the support of CLEC, Yang Yanhui, a teacher selected by SCAU, introduced the course overview and hoped that Brazilian students would deepen their understanding of Chinese history and culture on the one hand and enter the development story of modern China on the other hand. The students were enthusiastic about learning and the classroom interaction atmosphere was good.
Over the past year, the work of the Center has been steadily advancing. SCAU has issued relevant management measures, visited UFMT in the first half of the year, held the opening ceremony of the Center, and sent the first batch of books on Chinese education and traditional Chinese culture to the local area with the support of CLEC. In September this year, the first Chinese language teacher began to work in UFMT.