On July 5th, Mr. Pablo Beltrán Ayalar, Chairman of the Ecuadorian Higher Education Commission,led a delegation to SCAU. Vice President Rongliang Qiu received guests.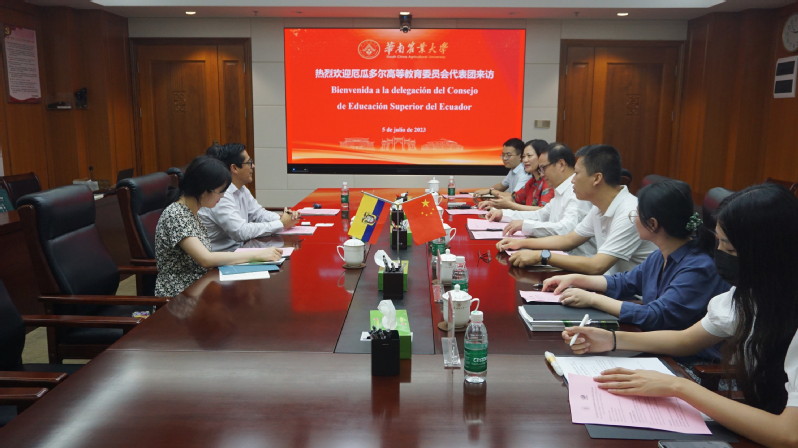 Rongliang Qiu warmly welcomed the delegation and pointed out that, as the only national Double First Class agricultural university in South China, SCAU emphasizes cooperation in the field of agricultural science and education with Latin American countries. China and Ecuador are good friends and partners. Recently, the two sides also signed a free trade agreement and hope to cooperate with more Ecuadorian higher education institutions in the future. On the basis of complementary advantages and mutual benefit, both sides will promote more practical cooperation results in high-level talent cultivation, joint laboratory construction, and other fields.
President Pablo thanked the warm reception and highly praised SCAU's achievements in agricultural science and education cooperation with Ecuador. He particularly pointed out that the proportion of agriculture in Ecuador is high, but the strength of agricultural technology is relatively weak, and it is expected that more universities and research institutions in Ecuador cooperate closely with SCAU.
The guests and hosts conducted in-depth discussions on the prospects for mutual cooperation. Representatives of experts from the College of Food and the College of Horticulture introduced the talent cultivation, scientific research, and other aspects to the guests.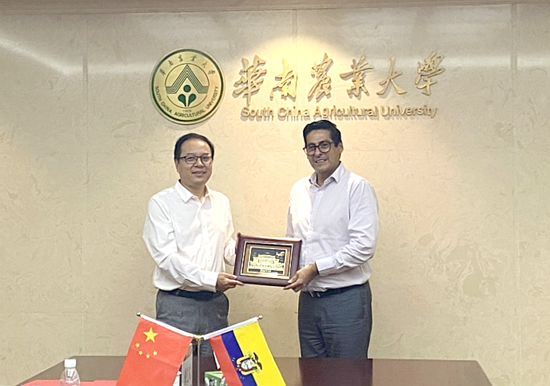 Both sides have reached a preliminary consensus on the future cooperation content, and will conduct in-depth cooperation in talent cultivation, teacher-student exchanges, scientific research and industrial promotion, especially in the fields of fruit and vegetable cultivation and preservation technology, modern agricultural equipment, etc.