From May 29 to June 3, the 9th World Magnolia Symposium was held in Honduras and broadcast live online. More than 200 experts from botanical gardens, scientific research institutions and universities in Asian countries such as China and Thailand and Latin American countries such as Mexico, Guatemala, Honduras and Colombia participated in the conference. Professor Deng Xiaomei of the School of Forestry and Landscape Architecture of SCAU gave a keynote speech at the conference.
WIth a theme of Magnolia Science, Conservation and Culture, the symposium is co-sponsored by the Universidad Nacional de Ciencias Forestales of Honduras, the Universidad de Guadalajara of Mexico, and the China-Latin America Agricultural Education and Research Innovation Alliance (CLAERIA).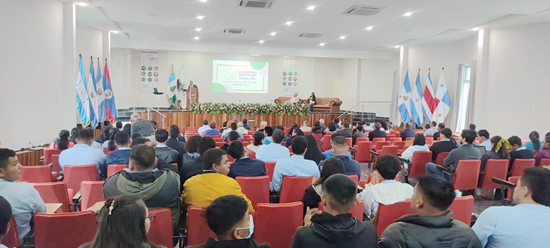 At the symposium, more than 20 experts from China, Honduras, Mexico, Colombia, Ecuador, Dominica, Costa Rica, Thailand and other countries made wonderful academic sharing. The experts conducted academic discussions on the systematic taxonomy and phytogeography of Magnoliaceae, cytology and morphological anatomy, molecular biology and phytochemistry, germplasm conservation and conservation biology, physiology and ecology, cultivation and propagation and new variety breeding, and the application of Magnoliacea plants in landscape. CLAERIA recommended 3 Chinese experts to make keynote speeches, and Professor Deng Xiaomei was one of them. She made an report entitled Protection, R&D and Application of Magnoliaceceae Cherished Tree Species based on her research results, which was highly recognized by her peers.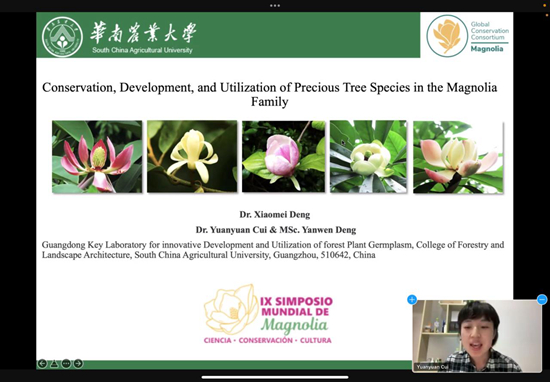 Magnoliaceae has the reputation of the giant panda of the plant kingdom. There are more than 300 species in 16 genera in the world, of which more than 160 species in 11 genera are produced in China. It is a veritable magnolia kingdom. Due to overutilization, deterioration of ecological environment and decline of reproductive ability, many magnolia species have become endangered. CLAERIA leaders said that the they will continue to give play to the strength of the alliance, strengthen talent exchange and scientific research cooperation, and actively carry out talent training and research on the protection of magnoliaceae germplasm.