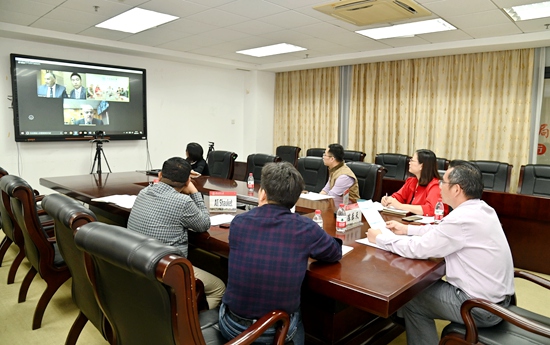 On April 6, South China Agricultural University held a video meeting with Suez Canal University, Egypt to promote exchanges with Egyptian universities during which both parties had a full discussion on the topics of common interest.
Prof. Dr. Nasser Mandour, President of Suez Canal University, graduated with a Ph.D. in Agricultural Insect and Pest Control from SCAU in 2004. He reviewed the pleasant experience of studying and living at SCAU and congratulated SCAU for its achievements in recent years. He stated that he would strongly support the close cooperation between the two universities in agricultural science and education.
Prof. Chen Letian, Director of Office of International Relations presided over the meeting and congratulated Dr. Nasser on his election asthe President of Suez Canal University. Ms. Yuan Juhua, Deputy Director briefed the attendees on the development of SCAU and its cooperation with African countries. During the discussion, both parties reached preliminary consensus on joint education, faculty and student exchange and research collaboration in fields like crop breeding, plant protection and smart agriculture. After the meeting, the reporter of SCAU had an online interview with President Nasser Mandour.
Prof. Jin Fengliang, Deputy Dean of College of Plant Protection, Prof. Qiu Baoli, Assoc. Prof. Ali Shauket from SCAU were present at the meeting. Prof. Dr. Mohamed Abdelnaeem, Dean, Faculty of Agriculture and Prof. Dr. Hassan Ragab, Dean, Faculty of Language and Director, Confucius Institute, both from Suez Canal University, Egypt, also joined the discussion.
Founded in 1976, Suez Canal University is a comprehensive university affiliated to the Egyptian government. The university focuses on undergraduate education and actively develops graduate education. With the right to grant Bachelor's and Master's degrees, it is one of the renowned universities in Egypt. The university has 25 departments and colleges, with more than 50,000 students and 3,000 teachers. Since its establishment, the university has become a pearl in Egypt and the Middle East, cultivating a large number of high-quality talents for the society and making great contributions to cultural and scientific education in particular.
Translated by YU