The global finals of the International Genetically Engineered Machine Competition (iGEM) of 2021 came to a successful conclusion on November 14. Our 2021 SCAU-China team won the gold medal by virtue of the environmental protection track project Molecular magnet - Super Environmental Guard (MESEG). This is the fourth time to win in iGEM after 2013, 2014 and 2016, and once again demonstrated the style of young students of SCAU on the international stage.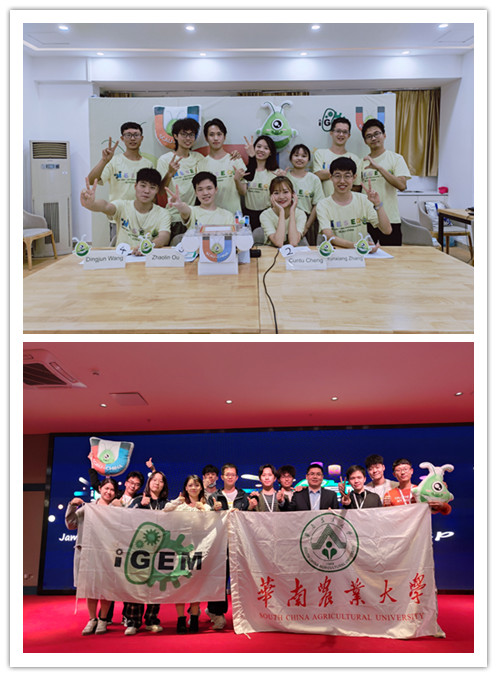 Heavy metal pollution is very serious in water. SCAU team came up with the idea of a 'cruisable molecular magnet'. 'Molecular magnet' means it can capture heavy metal ions and store them in vacuoles. This can be achieved by expressing heavy metal binding proteins and autophagy-associated proteins in Chlamydomonas reinhardtii. And 'cruisable' means it can swim back and forth in sewage by our hardware device. This new device has an acrylic frame and cruise system, supplemented by sodium alginate embedding method and semipermeable membrane. On the one hand, it can cruise in the water by Beidou navigation satellite system (BDS) or remote control to capture heavy metal ions at different positions and facilitate recovery at the same time. On the other hand, it can prevent the leakage of genetically modified Chlamydomonas and provide a relatively stable and safe environment for Chlamydomonas.
In the three-year cultivation process, the team members completed the preliminary preparations such as enterprise research, expert interview and popular science interaction, then experimental design, result verification, mathematical modeling, device construction and other experimental contents, at last, the team excellently completed the competition such as art design, web page construction, video production and online defense.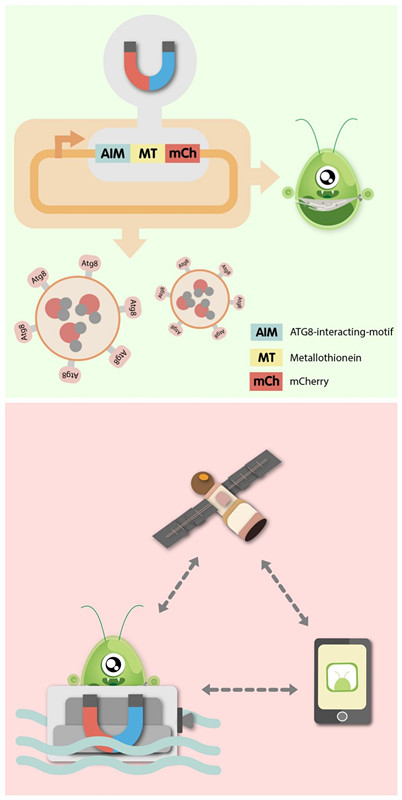 The SCAU-China team includes 13 undergraduates from five colleges, College of life sciences, College of Mathematics and Informatics, College of Engineering, College Veterinary Medicine and College Forestry and Landscape Architecture. The award-winning project was jointly coached by five teachers from College of life sciences, including Zhu Guohui and Li Faqiang, etc.
Name list of 2021 SCAU-China team:
Liang Jinglun, Zou Huizhen, Cheng Cuntu, Ou Zhaolin, Zhang Yunxiang, Wang Dingjun, Zhang Xinrui, Guo Chenkai, Zhao Xiaofan, Zhang Kaibin, Zeng Zirong, Feng Ziting, Bao Chengbin
And Coached by :
Zhu Guohui,Li Faqiang,Chen Letian,Zhu Qinlong, Wagn Rugan.
For more information about iGEM:
The International Genetically Engineered Machine (iGEM) Foundation is an independent, non-profit organization dedicated to the advancement of synthetic biology, education and competition, and the development of an open community and collaboration. This is done by fostering an open, cooperative community, and friendly competition.
IGEM's biggest program is the iGEM Competition. The iGEM Competition gives students the opportunity to push the boundaries of synthetic biology by tackling everyday issues facing the world. Made up of primarily university students, multidisciplinary teams work together to design, build, test, and measure a system of their own design using interchangeable biological parts and standard molecular biology techniques. Every year nearly 6,000 people dedicate their summer to iGEM and then come together in the fall to present their work and compete at the annual Jamboree.
iGEM began in January 2003 as an independent study course at the Massachusetts Institute of Technology (MIT) where students developed biological devices to make cells blink. This course became a summer competition with 5 teams in 2004 and continued to grow to 13 teams in 2005; it has now expanded to 353 teams in 2019, reaching more than 40 countries.
The Competition was originally aimed at undergraduate college students, and has now grown to include graduate and high school students. By 2011, the growth of iGEM around the world sparked the first Regional Jamborees, with the highest scoring teams from each region proceeding on to the World Championships in Boston. By 2014, iGEM outgrew our home at MIT, and in an effort to reunite the whole iGEM community at a single event once more, the first Giant Jamboree was held at the Hynes Convention Center in Boston.
Through the years, projects grew in complexity and Competition tracks were introduced to give teams focus areas for their projects. Past projects have ranged from a rainbow of pigmented bacteria, to banana and wintergreen scented bacteria, to the development of arsenic biosensors to screen drinking water.(https://igem.org/Main_Page)