On the afternoon of March 21st, the Minister of Department of Education and Skills of Ireland, Joseph McHugh, accompanied by the Ambassador of Ireland to China, Eoin O'Leary, led a delegation to SCAU.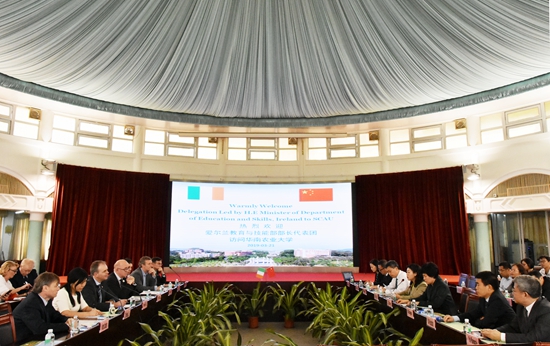 The welcome ceremony was held in the Conference Hall. President Liu Yahong receivedand had a meeting with the guests. The talks were presided over by Ms. Yuan Juhua, Deputy Director of Office of International Relations.
President Liu Yahong warmly welcomed the arrival of thedelegation. She indicated that the year 2019 marked the 40th anniversary of the formal establishment of diplomatic relations between China and Ireland and the 110th anniversary of SCAU. The bilateral educational exchanges and cooperation have been affirmed and supported by the two governments, and SCAU has established a close cooperation with University College Dublin of Ireland for many year. We have carried out effective cooperation in Sino-Foreign Cooperation Education and Joint Programmes, and over 100 students have been exchanged to UCD so far.
Besides, President Liu pointed out that SCAU would be happy to further advance development and prosperity of education exchanges and cooperation, strengthen the extensive cooperation in education, scientific research, personnel exchanges and other fields, learn advanced experience and cultivate high quality international talents together in the new period between China and Ireland through this meeting. This will benifit the development of globalization of education.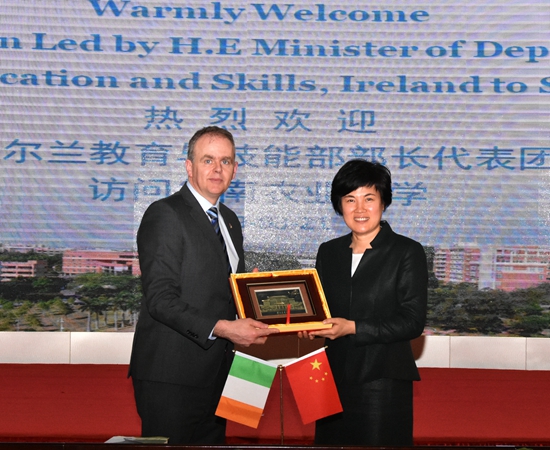 Minister Joseph McHugh expressed his gratitude to SCAU for thewarm reception. He was deeply impressed by our beautiful environment and distinctive architecture. Sinceboth China and Ireland have attached great importance to bilateral exchanges and cooperation in the fields of education and culture, he hopedthe mutual understanding can be enhanced through expanding the fields of cooperation. The Irish Department of Education and Skills is willing to provide more supports for the bilateral cooperation in various fields. The in-depth and long-lasting bilateral cooperationcan play an important role in the economic and social development of the two countries.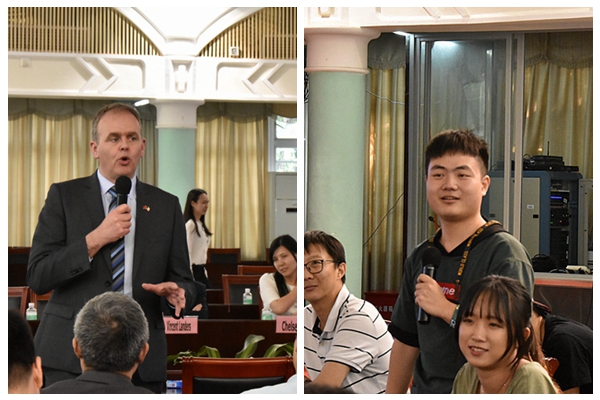 At the meeting, Ms Yuan Juhua introduced the subjects development and scientific research of SCAU. Professor Alexander Evans, Dean of College of Agriculture &Food Science of UCD reviewed the cooperative history between SCAU and UCD.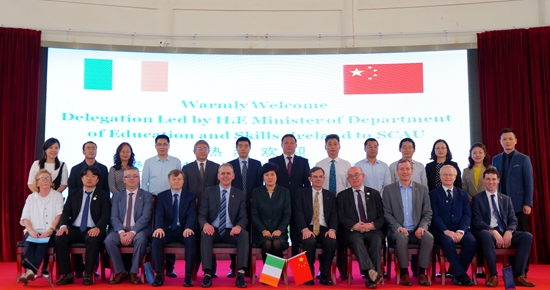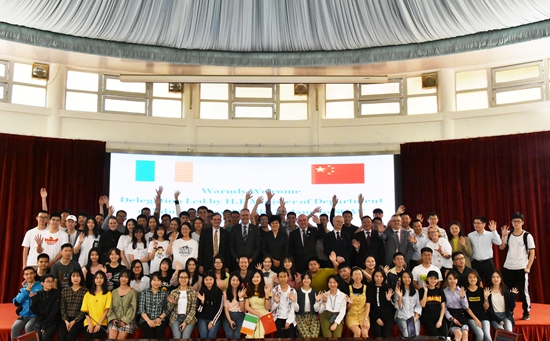 Accompanied by President Liu Yahong, the delegation took a campus tour. Afterwards, some representatives of SCAU staff and students participated in the cultural activities of the Irish Consulate.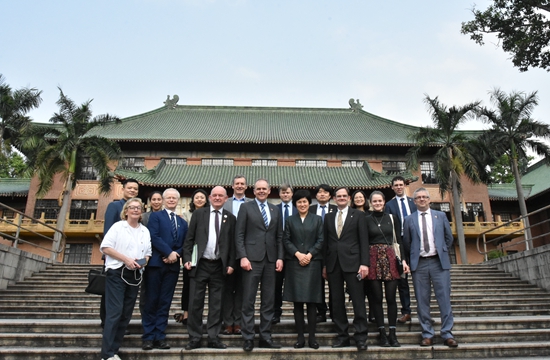 President's office, Graduate School, Office of Science and Technology, Human Resource Department, Teaching Affairs Office, Office of Humanities and Social Sciences, Office of International Relations, College of International Education, College of Horticulture, College of Life Sciences, College of Food Science and other concerning departments took part in this exchange activities.