The 5th China-LAC Civilization Dialogue Forum was held successfully online and offline in Nanjing, Jiangsu Province on September 1-2, 2022, organized by the Institute of Contemporary China and the World of China International Publishing Administration, Blossom Press, CICG Center for Americas, the Foreign Affairs Office of Jiangsu, the Latin American Institute of the Chinese Academy of Social Sciences, China-Latin America Agricultural Education and Research Innovation Alliance (CLAERIA) etc. were invited to make keynote speeches at the forum. Ms.Yuan Juhua, Deputy Director of the Office of International Relations of SCAU, was invited to deliver a keynote speech on behalf of CLAERIA & SCAU.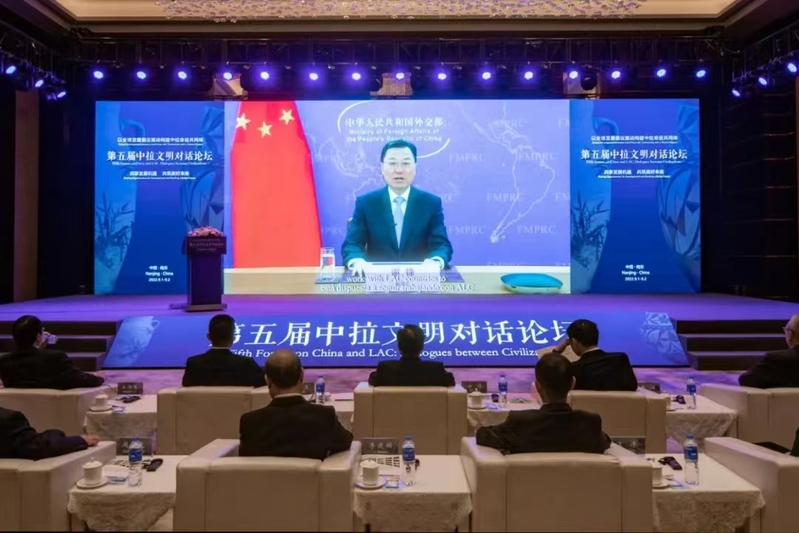 The forum focuses on the theme of Sharing Development Opportunities and Building a Better Future: Promoting the Building of the China-Latin America Community with a Shared Future through Global Development Initiatives. More than 200 politicians, experts, scholars, media and business representatives from 10 countries and international organizations including China, Argentina, Brazil, Mexico, Chile, Venezuela, Ecuador, Jamaica, Guyana, Bolivia, etc. Exchanged their opinions on four sub-topics, including "Building High-quality China-Latin America Partnership", "China-Latin America Partnership Network for Knowledge on Development", "Mutual Learning of China-Latin America Development Experience and Media Responsibility", "China-Latin America Development Cooperation and the Role of Overseas Chinese". They reached broad consensus on strengthening civilization exchanges and mutual learning, sharing opportunities for cooperation and development, building the China-Latin America community with a shared future through global development initiatives.
Mr. Xie Feng, the Vice Foreign Minister of China, pointed out in a video speech that the forum, which has played an active role in enhancing friendly dialogue and beneficial cooperation between China and Latin America, stands as an important brand for humanity and cultural exchanges of both sides. The Chinese government will continue to implement the global development initiative with Latin American countries, jointly build a China-Latin America community with a shared future, and inject energy into the harmonious coexistence and mutual learning of different civilizations.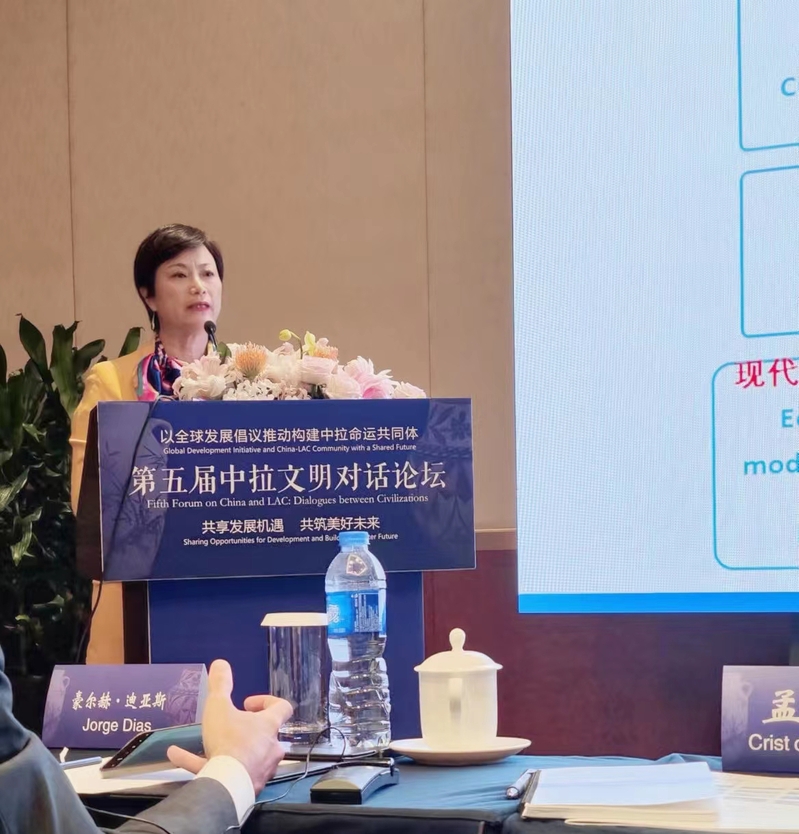 As the initiator of the CLAERIA, Ms. Yuan Juhua gave a keynote report on the sub-forum in which she introduced the cooperation and exchanges by CLAERIA since its establishment. She stressed that there is a solid foundation and bright prospects for China-Latin America agricultural cooperation which also face with common opportunities and challenges in the post-epidemic era for China and Latin America. As the key to agricultural modernization lies in scientific and technological innovation, the agriculture-forestry-related universities should shoulder more responsibility and integrate into the global scientific and technological innovation network. That is how they can enhance scientific and technological innovation capabilities, and work together to promote China-Latin America agricultural science, technology and cultural exchanges and cooperation to a higher level.
The China-Latin America Dialogue Forum stands out to be a concrete practice of implementing General Secretary Xi Jinping's view of mutual learning among civilizations. For five consecutive years, it has been an important public dialogue platform with international influence by bridging over the cultural exchanges, mutual learning and the emotion of two peoples.