In June, Dr. Ishtiaq Ahmad,the president of University of Sargodha, Pakistan visited SCAU.President Chen Xiaoyang greeted the guests. The two sides exchanged views on further promoting the preparatory work for the Sino-Pakistan Agricultural Research Institute.
Prof.Chen warmly welcomed the delegation.He said,University of Sargodha and SCAU have a solid foundation for cooperation.Responding to the "Belt and Road initiative",SCAU expanded the cooperation of agricultural techniques with University of Sargodha actively.Since the two schools signed the MOU in April,2017, both sides have jointly promoted the preparatory work of Sino-Pakistan Agricultural Research Institute.We hope that this visit led by Dr. Ishtiaq Ahmad can enhance the communication between two schools and prompt closer cooperation between two sides basing on the existing cooperation.
Dr. Ishtiaq Ahmad thanked for the warm welcome of SCAU and looked forward to the collaboration in the future.He indicated,University of Sargodha and SCAU should strengthen communication,promote substantive progress in cooperation through staff exchange visit,etc.He also hoped that they could send young teachers to SCAU to participate in the training program and learn the advanced agricultural techniques.
Two sides reached a consensus on staff exchange visits and the joint application for scientific research.
This visit was also accompanied by Muhammad Afzal, Dean of Agricultural College,university of Sargodha.Members from the Office of International Relations,Office of Science and Technology,College of Agriculture, College of Horticulture, College of Natural Resources and Environment and Pakistani associate Professor Ali Shaukat attended the meeting.
After the meeting,Chen Xiaoyang,the president of SCAU unveiled the CHINA PAKISTAN JOINT RESEARCH CENTRE FOR CITRUS DISEASE AND INSECT PEST MANAGEMENT together with Dr. Ishtiaq Ahmad.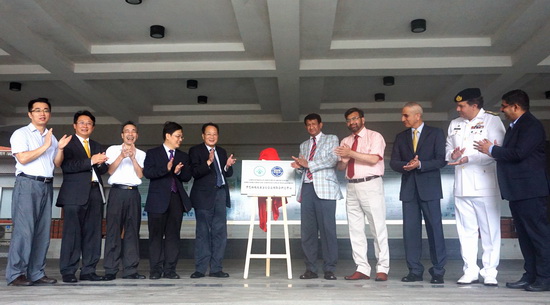 During the visit,the delegation also visited College of Agriculture,College of Natural Resources and Environment,College of Horticulture and discussed with the relevant experts.