On May 26, a delegation of 5 led by Prof. Nicolay Samaniego Erazo, President ofUniversidad Nacional de Chimborazo, Ecuador paid a visit to SCAU to explore cooperation possibilities. Prof. Yang Zhou, Vice President of SCAU received the delegation.
Prof. Yang extended a warm welcome to the delegation and briefed them on the university profile, outstanding disciplines as well as the International networking of SCAU. He hoped thatthis meeting will enhance mutual understanding and promote the cooperation between the two universities.
Meanwhile, on behalf of the College of Engineering, President Yang introduced the academic programs, research fields and scientific achievements of the school. Besides, the representatives from the College of Agriculture,College of Horticulture and and the College of NaturalRecources and Environment also gave a brief introduction to their colleges.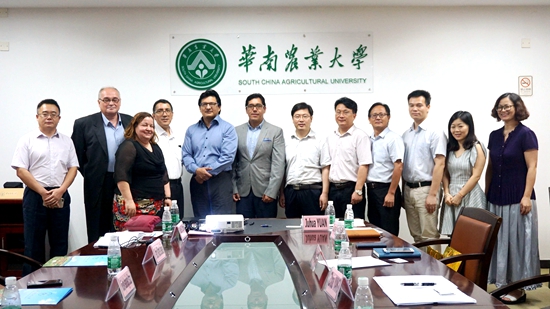 Prof. Nicolay Samaniego Erazo thanked SCAU for the warm hospitality. As UNACH is located in a major agricultural province, he believed that two universities can not only enhance academic and research interaction but also strengthen technical cooperation through student exchange and faculty exchange programs. In addition, he mentioned that China and Ecuador have had a long-term friendly relationship. President Xi Jinping visited Ecuador in 2016, which promoted the development of bilateral relations remarkablyand would also be beneficial to the cooperation and interaction between the two univeresities.
UNACH and SCAU both agreed to start the cooperation from short-term exchange of students and faculty to locate the fields of common interests.
Members from the Office of International Relations and Office of Science and Technology attended the meeting.