Recently, a delegation of 3 led by Consul general of Nigeria in Guangzhou, Mr. Shakirudeen Adewale Oloko,visited SCAU. President Chen Xiaoyang greeted them with a warm welcome.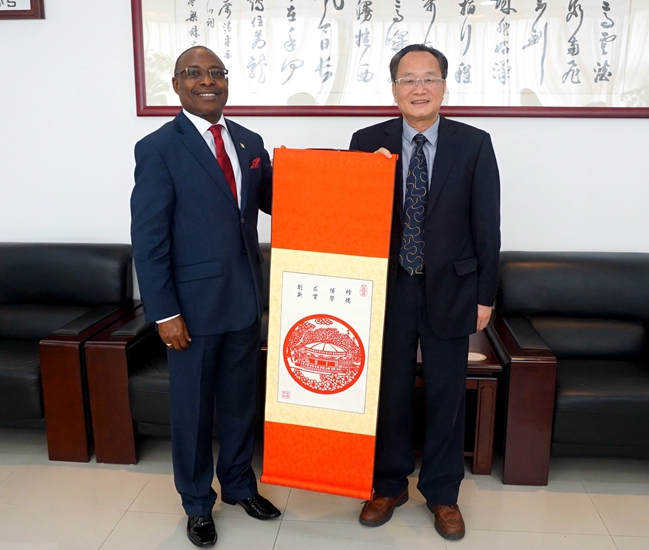 After expressing his welcome to all the guests,President Chen Xiaoyang indicated that China and Nigeria maintain good relations since the two countries established diplomatic relation in 1971.For many years, SCAU has cultivated a large number of high-level Nigerian students. At present, officials or experts from Nigerian government are participating the training programme of agricultural technology held by SCAU. We hope that both Nigeria and SCAU would promote multilevel cooperation and interaction as well as strengthening enterprise cooperation through this visit.
Consul General Oloko appreciated the warm greeting by President Chen and showed his gratitude for SCAU's cultivation of Nigerian students and experts of agricultural technology. He revealed that he was always looking forward to visiting SCAU, so as to establish a co-operative relationship in agricultural fields between Nigerian government and SCAU, including agriculture technology and food security, in order to respondto The Belt and Road Initiative. In addition, Consul General hoped that the two sides would strengthen the cooperation further and he would exert himself to promote the cooperation and exchange between the two countries with joint efforts. The two sides agreed on the next step of cooperation, and would follow up afterwards.
After the meeting, the delegationhad a campus tour in the beautiful campus, accompanied by the officer of International Office.