Recently, Dean of College of Agriculture from University of Sargodha Prof.Muhammad Afzal and Associate Professor of Entomology from University of Agriculture Faisalabad Muhammad Hamid Bashir visited SCAU and discussed issues for cooperation.
Delegation from SCAU led by Director of Office of International Relations Prof. Feng Lixin, Deputy Director Ms. Yuan Juhua, Dean of College of Horticulture Prof. Chen Houbin and Vice Dean of College of Agriculture Mr.Ma Qibin had a meeting with the guests, discussing details about fruit postharvest preservation technology, Huanglongbing prevention and control technology and feasibility of establishing Confucius Institute for cooperation respectively.
During the friendly discussion, the two sides reviewed the situation that President of Pakistan Asif Ali Zardari visited SCAU in 2009 and the achievement that the two sides had reached in later academic researches.
China and Pakistan are neighbors with a long history of cooperation in agricultural technology. For many years, SCAU has brought up a large number of high-level professional and technological talents for Pakistan. Both sides are expecting to launch in-depth cooperation in agricultural technology proactively under the "Belt and Road" Initiative, implement negotiation intention as soon as possible to promote cooperative issues.
SCAU Entomology Department expert Associate Prof.Shaukat Ali from Pakistan, Prof. Wu Jianhui from College of Agriculture and Prof. Wu Zhenxian from College of Horticulture were presented in the meeting.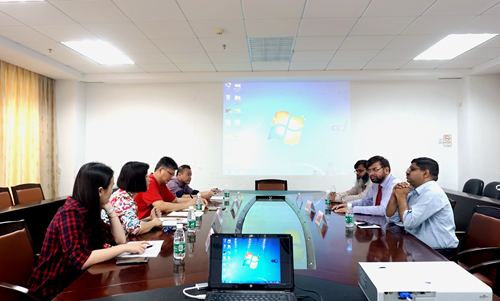 Related links:
Located in Sargodha in northeastern Pakistan, University of Sargodha is a comprehensive university, including 228 faculties with PhD degrees and 26 thousand students. There are 9 colleges in the university, the largest of which is College of Agriculture and 12 departments including Agronomy, Soils and Environment, Plant Breeding and Genetics, Entomology, Plant Pathology, Forestry, Agricultural Extension and Rural Development, Horticulture, Animal Science, Agricultural Economy and so on. With the rapid development and tight connection of industry, university and research in recent years, the university has absorbed sufficient funds for its teaching and research.