Mr. Hu Chunhua, member of the Political Bureau of the CPC Central Committee and secretary of the Guangdong Province led a delegation to pay a special visit to UCD on invitation on the afternoon of June 9th for investigation and exchange during his official visit to Ireland. Together with the Minister for Educationfor the Irish Government Prof. Richard Bruton, Chinese Ambassador to Ireland Mr. Yue Xiaoyong and Irish Ambassador to China Mr. Paul Kavanagh, Mr. Hu witnessed the co-signing of letter of intent for cooperative education between SCAU and UCD by their Presidents, Prof. Chen Xiaoyang and Prof. Andrew Deeks.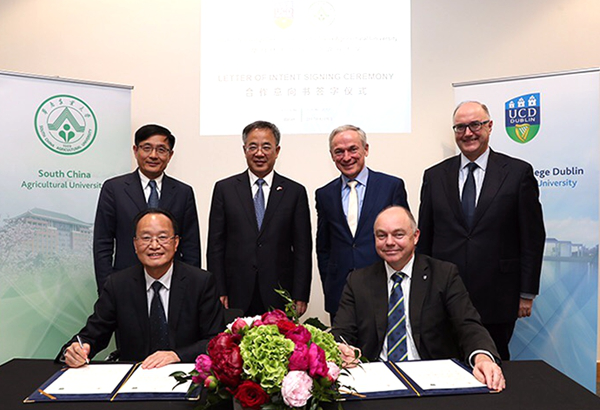 Guangdong Party Secretary Mr. Hu Chunhua witnessed the signing of letter of intent between SCAU and UCD
Mr. Hu Chunhua expressed his kind attention to the exchanges and cooperation between the two universities. He also stated that China and Ireland has reached the consensus that we should strengthen exchanges and cooperation of different levels. Having long standing exchange basis and cooperative outcomes, both universities were expected to promote deeper cooperation through the visit and signing of the document this time. Currently, Guangdong province is implementing the innovation driven strategy, and vigorously promoting structural adjustment and transformation upgrading. For this purpose, the construction of high-level university and high-level university of science and engineering has been started, which is consistent with the construction of national first-class university and discipline. Besides, the export of high-level talents, outcomes and new research and development institutions has been accelerated. As one of the national key universities and one of the 140 universities in Guangdong province, SCAU needs to build friendly relationship with UCD and other universities in Ireland for the further promotion of the "Belt and Road" construction, strengthen practical cooperation in areas of education, technology, agriculture and culture in order to make greater contribution to higher education, technical development as well as innovation of Guangdong province.
Mayor of Guangzhou Mr. Wen Guohui, Deputy Secretary General of Guangdong Province and Director of Policy Research Office Mr. Liu Ji, Director of Guangdong Foreign Affairs Office Mr. Chen Qiuyan, Director of Commission of Economy and Information Technology Mr. Tu Gaokun, Director of the Education Department Mr. Jing Lihu, Director of Science and Technology Department Mr. Huang Ningsheng, and Director of Commerce Department Mr. Zheng Jianrong attended the signing ceremony.